Ultimate Queen Virgin Remy Review
Queen Virgin Remy is a 100% human hair extensions company, they guarantee top quality hair and their products never contain a fill or mix of synthetic hair. You can buy them on their website or by using their mobile app for both Android and iOS devices.

The Hair
They offer Virgin hair and Indian Remy hair. The Virgin hair extensions are 100% virgin and with all the cuticles kept intact, while the Indian Remy hair is chemically treated and colored to make an alternative to virgin hair, although it still is entirely made of human hair.
Reusability
All extensions have been machined weft, which means that they have been sewn to create one bundle, this reinforces the weft and makes them much more resistant, allowing them to last up to 1 year. They are a bit bulkier than hand wefted versions but can grant more volume to your hair. This kind of weft is mostly used for permanent extensions which are sewn in, and Queen Virgin Remy reminds you always to seal your wefts, this way excessive shedding is prevented.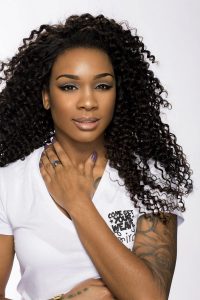 The Weight
All virgin hair is 3.5oz each and Indian Remy is 2.5oz, in grams, they are 100g and 70g respectively. This means buying one usually is not enough if you don't have really thin hair, but you have the option to buy more than one bundle, and Queen Virgin recommends getting at least 2 and up to 4 bundles so you can get more thickness from your extensions and a full head of hair as full as you desire.

The Length
Virgin hair extension, whether they are Brazilian, Peruvian or any other that you pick, have the option to set the length from 12 inches all the way to 30 inches for just $5 for every two extra inches starting at 12. This is perfect for you to choose the exact amount of length that fits you the best without risking them being too short or too long. Although, Indian Remy hair can only be either 14 or 18 inches long

Lots of different kinds of hair, such as Malaysian curly, the Brazilian straight or the Eurasian body wave. First, you pick what hair do you want, and then the texture it will have, so you can get a straight Brazilian hair extension or make it have loose waves or make it curly. Each hair has its options so some can't be modified from straight hair.
Buying and Shipping
To purchase a Queen Virgin Remy hair extension, creating an account will be necessary, as well as having a PayPal account because it is the only payment option available, although there is an option to pay with PayPal Credit for US customers.
The shipping is free, but it won't be fastest one, but you have other options with FedEx, such as ground shipping (2-4 days) and overnight delivery for an extra charge, be weary of the dates, because they never ship the same day you made the purchase, and only will do it until PayPal accepts the payment.
HAIR QUALITY

LENGTH SELECTION

REUSABILITY

PRICE

The Weight